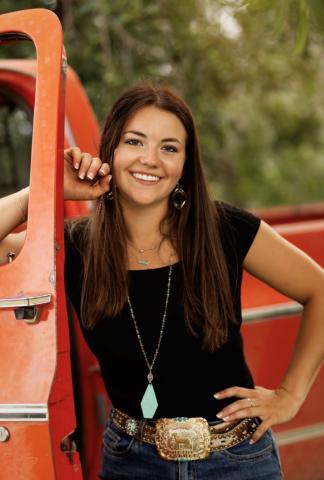 HEIDI LABREE ANNOUNCED AS SOUTHEAST ELECTRIC ESSAY SCHOLARSHIP WINNER FOR 2023
Billy Etbauer's arena record ride at the 2003 NFR; Rosa Park's bus boycott; the building of the Egyptian Pyramids in 2550 BC are just a few of the many topics that students found to write about for the Southeast Electric Essay Scholarships, making the decision very difficult for the scholarship committee.  The question asked was, "If you could witness one historical moment firsthand, what would it be and why?"  Civil and Political Rights for Women, the signing of the Declaration of Independence, Game 6 of the 1998 NBA Finals, and the electrification of rural America were other historical moments chosen by our applicants.  In the end the committee chose Heidi LaBree to be this year's recipient of the $1000.00 scholarship. 
Heidi chose the 1936 Olympics.  She wrote that the Olympics were set to be held in Berlin and Hitler was not happy.  Many countries questioned whether or not to participate.  The United States decided to compete in the games, but benched two Jewish athlete and replaced them with African American athletes.  Heidi talks about Jesse Owen, one of the African American athletes, who went on to win the gold medal in the 100-meter, 200 meter, long jump and help his team win the 4x100 meter relay and returning to the United States with no recognition from the president while his fellow white teammates were invited to the White House.  Heidi stated, "To be able to witness these moments in history would be life changing.  To catch people supporting a man despite race, religion, and ethnicity during this time would be profound."  Heidi is the daughter of Lee & Cam LaBree. 
SOUTHEAST ELECTRIC
Vernon Emery Memorial Lineman Scholarship - $1000
Southeast Electric Cooperative, Inc. periodically awards a $1,000.00 scholarship to a deserving person planning to enroll in a Power Line Construction and Maintenance curriculum at an accredited Tech School.  $500.00 has been added by the family of Vernon Emery for a scholarship totaling $1500.00. 

Applicant must reside within the co-ops service territory.

Applicant must be a graduating high school senior or have graduated from high school and planning to attend an accredited Tech School to pursue a career in Power Line Construction and Maintenance.

Applicant must submit a completed scholarship application, personal statement, and a list of school and community activities.

Applications will be reviewed as needed.  
Scholarships not claimed within a year of award will be forfeited.
Vernon Emery Memorial Lineman Scholarship Application(link is external)
---
2023 APPLICATION DEADLINE IS CLOSED
Southeast Electric Scholarship - $1000
Southeast Electric Cooperative Inc. will award one scholarship in the amount of $1,000 to a deserving student pursuing post high school education.  We will select a primary and alternate recipient.
RULES & GUIDELINES
Applicant or parents/guardian must be a member of Southeast Electric Cooperative, Inc.  Students whose parents are part of a corporation that is a member of Southeast Electric may also apply.

Applicant must be a graduating high school senior planning to attend a full-time college or Vo-Tech or currently enrolled full-time at a college, or Vo-Tech school.

Applicant must submit a completed scholarship application packet AND essay to the office of Southeast Electric by 5:00 pm January 20, 2023.  The essay should be no longer than one page on the following: If you could witness one historical moment firsthand, what would it be and why?

Selection of the Scholarship primary and alternate recipient will be made by a scholarship committee consisting of at least three members of the Board of Trustees of Southeast Electric and will be based on the essay, academics, and school and community activities.

Upon proof of enrollment in the college or vocational school, scholarship monies will be sent to the student.

Scholarships not claimed by DECEMBER 31, 2023 will be forfeited
Download the Southeast Electric Essay Scholarship Application
Download the Southeast Electric Essay Scholarship Guidelines
(link is external)